Since 1917, the expert craftsmen at Liberty Pattern & Mold have been creating the models, prototypes and/or the tooling necessary to bring a wide variety of products to market. Serving a broad range of industries over the years has given us the experience and exposure to different manufacturing techniques and requirements. Our staff, with over 120 years of combined experience, takes pride in having the knowledge and skills necessary for quality assurance, short lead time and value-added results. We build solid, long-term relationships with our customers through our dedication to the integrity and ingenuity of our craftsmanship.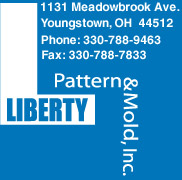 Amazing capabilities that
allow for amazing results!
CNC capability enables us to produce patterns and
associated tooling, molds, parts and unique shapes
with extreme accuracy and speed. We can generate
the design of a product from within our SurfcamTM
or SolidworksTM software, create the cutting tool path
and send the information directly to our 5-Axis machine.
By reducing the amount of handwork involved in a
project, our customers realize increased accuracy in
addition to savings in time and expense.




We can use a customer's computer
drawing file or create a computer drawing from a customer's paper drawing. We can also produce multiple, identical parts and trim parts that require precision fit with other parts.




Full 5-Axis matching
Full 3-D capability
60 inch x 60 inch x 30 inch work area
Cuts a variety of materials including:
wood,foam,plastic,epoxy,composites
Supports all major CAD file formats:
IGES,SolidworksTM, ParasolidsTM
SAT,DFX,CADL,STL,CATIA,DWG
Able to construct or edit complex
free-form surfaces



A great alternative
to aluminum molds.

The TAFA arc spray metalizing process
deposits a thin layer of metal to the
mold or tooling face.
This process is used when a metal face
is required, as opposed to a solid metal
casting or difficult-to-mill shape.
A metal-faced tool, from your existing model
or pattern, can also be produced, by means
of an 'epoxy reversal'
A rapid, economical, mold making technique
that allows for quick turn-around time and
unique creative control over the tool
manufacturing process.
Who has a
problem that
we can solve?

Foundries
Vac-U-Formers
Tool & Parts Mfrs.
Architectural Designers
Fiberglass Formers
Blow Molders
Tire & Tire Machinery Mfrs.
Boat Builders
Medical Equipment Ind.
Product Designers
Agricultural Industry
Signmakers
Inventors
Toy Manufacturers
Artists & Sculptors
So what can we
possibly do
for you?

Design and
Engineering Assistance
Patterns
Molds & Castings
Rapid Prototypes
Replacement Parts
Antique Reproductions
Aircraft & Auto Parts
Pump Parts
Fan Blades
Lifting Magnet Frames
Large Scale Valves
Shower Stall Bases
Jet Ski & Snowmobile
Panels
Train & Steam
Engine Parts
Spa & Hot Tub Molds
Motorcycle Farings
Cement Molds
Actually, the
possibilities are
endless!